Kenneth A. Larson has over 30 years experience in designing and building scenery for the Entertainment Industry working on Features, Television, 3 & 4-Camera* TV, Commercials, print ads, Theme Parks, Theme Interior Design, Architecture, Theme Architecture, Trade Show Display, and other related areas of Environmental and Entertainment Design. Ken is most experienced in motion picture and television, having worked on such films as 3 Batman movies, Hunt for Red October, several Star Trek projects, Shrek, The Polar Express, and countless others. Ken works primarily in the Hollywood region**. Ken Larson uses both traditional drafting (pencil on board) and computer aided drafting in creating his set designs. Ken is also an expert model maker having started as a Visual Effects Model Maker and in time, has built most forms of models including theme park and Set Design models.
* By 3 & 4-Camera, I mean the various forms 3-camera, 4-camera, 3 1/2-camera, sit-com.
** Ken Larson usually works in the region of the Hollywood - Culver City / Century City - Burbank / Studio City / Universal City triangle in the Los Angeles, California area. Ken has ventured west into Simi Valley and as far as Oxnard, north into Santa Clarita and Palmdale, east to Pasadina and beyond, and south to LAX and Long Beach. Ken has worked throughout the Los Angeles County and Ventura County region of Southern California, U. S. A. At some point in Ken's career, Ken has worked at all the major studios. Ken is a native of the San Fernando Valley, not far from the No-Ho theater and arts community.

Ken Larson is versatile and multi-disciplined in the field of scenic design and construction. Ken is equally talented at using both computer aided and traditional approaches to Set Design. Ken has many years of experience building models in most forms including models for camera and study models and now does much of his design work using virtual computer models. Kenneth works in 2D CADD drafting and 3D CAD (Computer Aided Design) modeling and CADM (Computer Aided Design and Manufacturing). Ken works in Visual Effects and live action cinema. While Ken has not yet worked in theatre scenery, he did spend over a year working in architecture specializing in theatre buildings. Ken had built scenery, props, mock-ups, and Special Effects before shifting emphasis primarily to design in the mid-1990s. Ken creates physical and virtual models and renderings. Kenneth has also created graphics for the film industry using traditional and computer skills.

Ken has extensive experience with Visual Effects, CGI, in adition to most aspects of set, prop, and miniature construction. Ken began as a Visual Effects Model Maker creating physical models of space craft and landscapes for Buck Rogers in the 25th Century. Ken got his start in the early days of motion control for miniatures and still enjoys model making. In recent years, he has lent his creative talents to Set Designing for all-CGI films such as Shrek and The Polar Express.

Ken Larson has been a Set Designer for numerous Motion Picture and Television productions. Some projects include: Set Designs for Visual EffectsMiniatures for Batman and Robin, Bradley Infantry Fighting Vehicle for The Pentagon Wars, period CGI sets for Shrek and The Polar Express, Absolut Versace sets for still shots for Vogue magazine. Also sets for X-Files, Collateral Damage, American Pie II, C. S. I., Ghost Whisperer, Lie to Me, and American Horror Story. While Ken loves Set Design, he has on occasion acted as Art Director and Set Designer on several student films, short films, and small features.

There is sometimes a misunderstanding in the Art Department that either people design sets, or if they lack design talent, they build them. They sometimes assume that Ken can't design scenery because he once built scenery. The truth is that as a Visual Effects Model Maker, Ken designed much of what he built. Ken has an AA degree in Architecture and a BA degree in Interior Design. Ken is proficient in several CAD and graphic computer programs. Ken is a better scenery designer after having 18 years experience building scenery and has now been a Set Designer for alomst as long.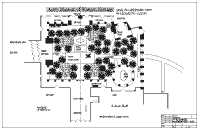 Set Designers 50th Anniversary Party. Event planning.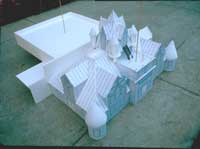 The Last Castle. Study Art Department model.



Lucy Goldstar, CADD for a simulator ride.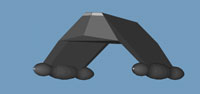 Sea Shadow.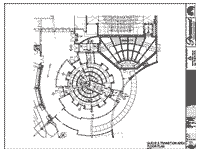 Borg Invasion a Star Trek attraction.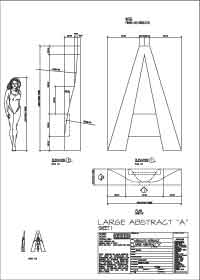 Absolut Versace, Fashion shoot. AutoCAD ©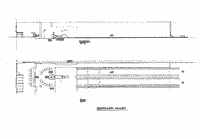 Titus, Pencil drafting for a Sit-Com.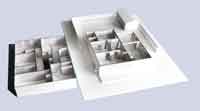 Cracker, AutoCAD ©.