Production Design, Set Design - Gabrielle - Kenneth A. Larson
I acted as Production Designer, Set Designer, Set Decorator, Graphics Designer, Construction Coordinator, Prop Builder Forman, Paint Forman, Scenic Artist, Greens, and Special Effects/Visual Effects Consultant on this USC student film for Director Stephanie L. Jones.

I wasn't aware when I started, that I would also build and paint most of the sets.

Shot in May 2000.

Note: These drawings are presented here for portfolio purposes only. These drawings are not available for sale or to be given away in hard copy or digitally in any scale. I will be happy to show hard-copy during a legitimate job interview for Production Designer.

Spotting plan for the Waiting Room and the 50 cheese cloth columns.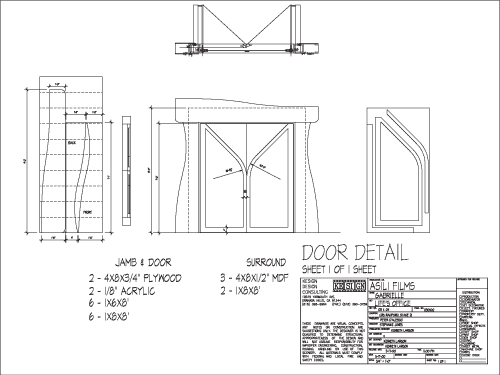 This door was used in both the Office set and the Waiting Room set.
It was rigged to open by off-camera cable.
| | |
| --- | --- |
| Tunnel to birth. | Tunnel set. |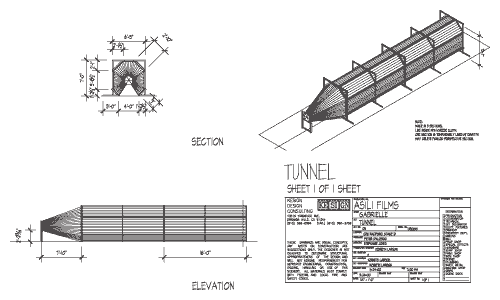 Two sections of this tunnel were made. One was lined with duvetyn for the 'Refuge of the Unborn' then both were lined with back-lit cheese cloth for the tunnel to birth.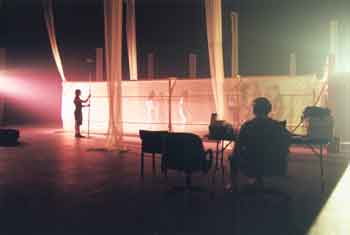 Tunnel side view.
| | |
| --- | --- |
| Life's oval office in Heaven. | Another version of Life's office. |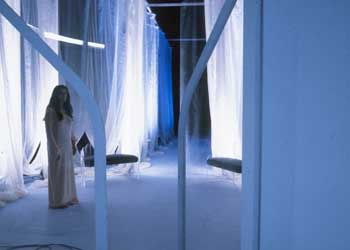 Corridor outside of Life's office set in Heaven.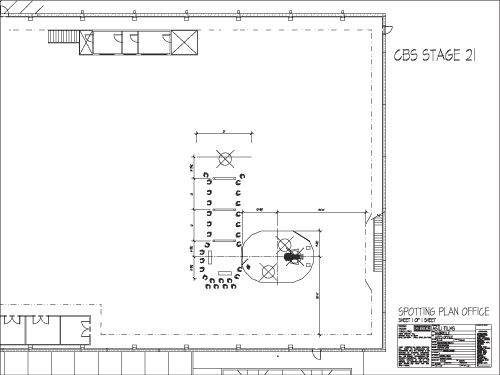 Spotting plan for Office set.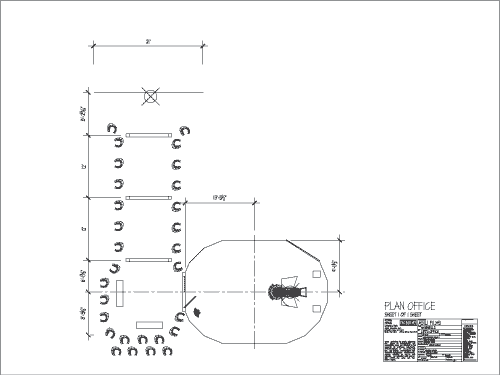 Office plan. On the set, we turned the corridor 90 degrees counter-clockwise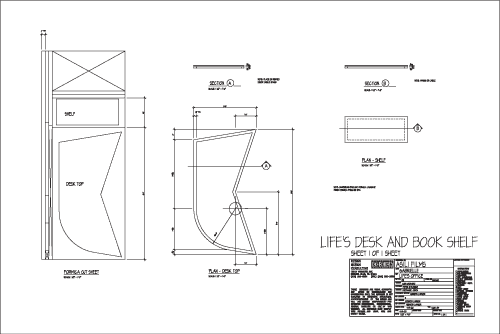 We made several pieces of furniture. This is Life's desk.
| | |
| --- | --- |
| Living room set. | Living room set. |
| | |
| --- | --- |
| Kitchen set. | Bathroom set. |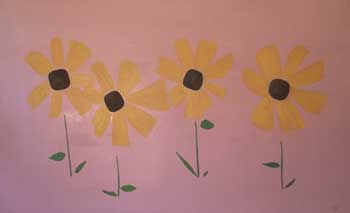 Art work for living foom set. 60"x36"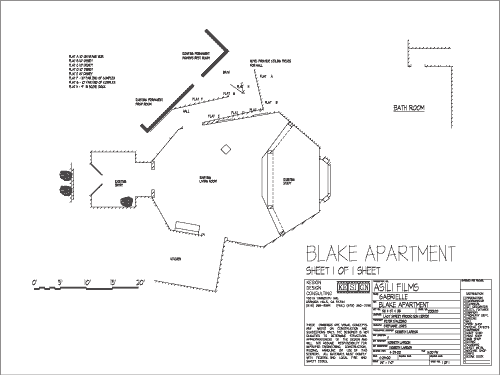 This was out first set. We modified an existing living room set, then added a hall, bathroom
and kitchen. We repainted the entire set and added aging as the story advanced over 40 years.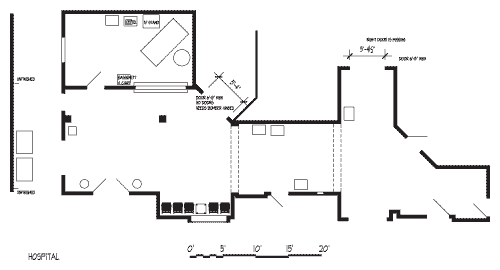 Director and Set Dressing drawing for an existing hospital set. The show
ahead of us ran late and at the last minute, we had to find a new location in a
closed hospital. We didn't shoot here.
| | |
| --- | --- |
| Hospital set. | Hospital set |

Sign for the hospital set.

Sign for the hospital set.


We needed food stamps for one scene.

Sign for the hospital set.

Sign for the hospital set.


Title cards for view screen.

The Steadicam Operator teaches the Director how heavy
the Steadicam is.


Drive on. I made all signs and graphics.
---
Copyright © 2000 - 2013, Kenneth A. Larson. All Rights Reserved.
Website content including photographic and graphic images may not be redistributed for use on another website.
This page last updated: Thursday, 25-Dec-2008 03:25:14 EST