Traditional and Computer Aided Design and Graphics
Los Angeles, California, USA, Terra, Solar System Sol, Milky Way Galaxy, Local Group, Virgo Super Cluster, Local Universe

Set Design and Model Making - Batman Forever
Most of my two decades in the entertainment industry have been
designing and building models. For Batman Forever, I worked
as Visual Effects Model Maker and also did some Set Design.
1994-1995
Production Designer: Barbara Ling; Visual Effects Art Directors: James Hegedus; Model Shop Supervisor: Mike Joyce.

This was my second of three Batman movies. I worked as Visual Effects Model Maker on Batman Returns and as Visual Effects Set Designer on Batman and Robin


Video Clip




Note:

These drawings are presented here for portfolio purposes only. These drawings are not available for sale or to be given away in hard copy or digitally in any scale. I will be happy to show hard-copy during a legitimate job interview for Set Designer.

2D projection of a 3D drawing of the "Eye Sign".
AutoCAD © R12, 1995

"Eye Sign": This miniature sign is about ten
feet across. I didn't build the model, I just did
the 3D drawing.
A helicopter crashed into this break-away sign. Because the three copies of the faceted iris of the Eye Sign were made of tempered glass, it was decided to lay the parts out in 3D. I used the 3D capabilities of AutoCAD © to generate an accurate drawing of the 11 different planes of glass. We didn't use the third copy and it was used for a full size optometry store sign in a scene from Batman and Robin two years later. At that time, I made a new, smaller, miniature layout for a matching miniature of the store - the new miniature scene was canceled.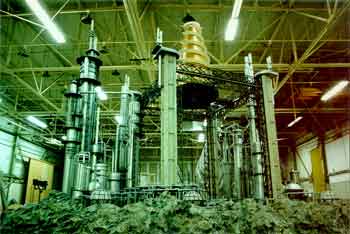 Claw Island, Riddler's base, Batman Forever, Visual Effects model, 1995.
---
Copyright © 2000 - 2017, Kenneth A. Larson. All Rights Reserved.
Website content including photographic and graphic images may not be redistributed for use on another website.
This page last updated: Thursday, 01-Aug-2013 15:02:50 EDT